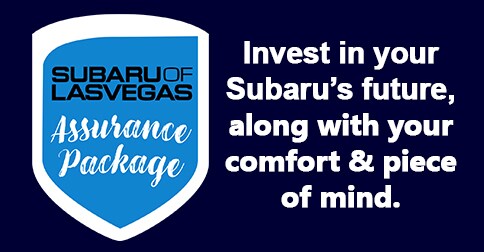 Subaru of Las Vegas has compiled a selection of products that are available on all new Subarus on our lot. The Assurance Package also includes services to make car ownership less stressful.  


Bright, harsh sun shine wreaks havoc on eyes, and interior surfaces, while heating up your car's cabin. Pre-installed window tint, offered by Subaru of Las Vegas, takes one step out of your new car purchase. By adding Nevada legal 35% window tint to your new Subaru, not only do you get reduced glare, cooler cabin temperatures, you also get added safety and security. Tinted glass stays affixed (for the most part) to window tint in the event of an impact. Darker windows also make it more difficult for passersby to easily see in your vehicle, reducing the temptation a bag, new DVD player or stereo may be for thieves.




For the first 36 months or 36,000 miles of your new Subaru ownership period, you do not have to worry about paying for factory recommended maintenance for your new Subaru! This includes the 6,000 mile (4 cylinder engines), or 3,750 mile (conventional oil - 6 cylinder engines) intervals dictated by Subaru of America for your vehicle. Tire rotation services are also included every other oil change. The 15,000 and 30,000 mile intermediate service, as recommended by Subaru of America, is covered by the Carefree Maintenance Package as well.




Petroleum costs will rise, the ingredients of synthetic oil will also see their prices increase as time marches on. Anybody who purchases SLV's Lifetime Oil Change option, does not have to worry about that! For as long as you own your new Subaru, Subaru of Las Vegas will take care of your oil and oil filter changes! This offer is limited to Subaru oil products and is only valid at Subaru of Las Vegas. Our Lifetime Oil Change package is not transferable, in the unlikely event you decide to let your Subaru leave your family.