Which Subaru SUV Is Largest?
The 2023 Subaru Ascent is the largest Subaru SUV, as it offers three rows of seating, space for eight passengers and up to 75.6 cubic feet of cargo space. Next up in Subaru SUV sizes is the Outback, followed by the Forester, all-new Solterra EV and the Crosstrek. All new Subaru SUVs provide ample storage in addition to comfortable seats and plenty of room for passengers to stretch their legs, so you truly can't go wrong. Want to get an up-close look at the Solterra interior dimensions or see how you can utilize the Ascent cargo space? Get Subaru reviews now at our Subaru dealer near Sunrise Manor and you'll gather all the details you need to make a final decision!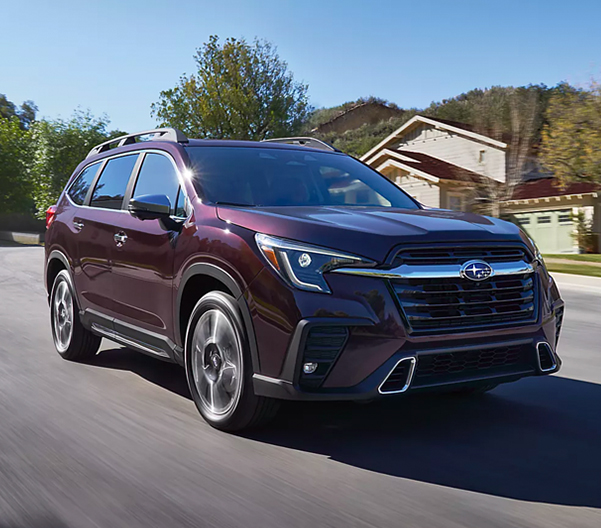 Compare Subaru SUV Dimensions & Cargo Space
| | Seating Capacity | Cargo Space (cu. ft.) | Passenger Volume (cu. ft.) |
| --- | --- | --- | --- |
| 2023 Subaru Ascent | 8 | 75.6 | 153.2 |
| 2023 Subaru Outback | 5 | 75.6 | 109 |
| 2023 Subaru Forester | 5 | 74.2 | 111.6 |
| 2023 Subaru Solterra | 5 | 63.5 | 95.7 |
| 2023 Subaru Crosstrek | 5 | 55.3 | 100.9 |
For an electric vehicle with the most cargo space, the all-new Solterra EV will be exactly what you're looking for. The 2023 Solterra EV seats five passengers as well as offers up to 63.5 cubic feet of cargo space and 95.7 cubic feet of passenger space. The new Solterra dimensions mean you can get all the space you need while making the move to a versatile electric vehicle in Nevada. Want to compare the Subaru Outback vs. Forester cargo space? Interested to know how many Crosstrek seats there are? Contact Subaru of Las Vegas and our experts can break down all the specs of each model so that you can discover the right new Subaru SUV for your needs.

Subaru SUVs in Nevada
For an all-wheel-drive SUV that provides plenty of space, look no further than the inventory of new Subaru models available at our Nevada Subaru dealer. We have 8-passenger SUVs like the Ascent as well as electric cars with the most cargo space available, so what are you waiting for? Schedule a test-drive now at our local Subaru dealer and reserve a new Subaru SUV that has all the space and features you're looking for. From Forester storage options to Crosstrek passenger volume, there's more than enough to go around at Subaru of Las Vegas!