The 2022 Subaru Love Promise Customer and Community Commitment Award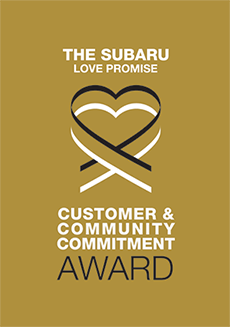 We've been nationally recognized for our dedication to our customers, our community, and the Subaru Love Promise.
We're honored to receive the 2022 Subaru Love Promise Customer and Community Commitment Award. This award nationally recognizes elite Subaru retailers who provide an exceptional customer experience at every interaction with Subaru. These retailers have also demonstrated an outstanding commitment to supporting passions and causes in their local communities in important areas such as the environment, community, health, education, and pets.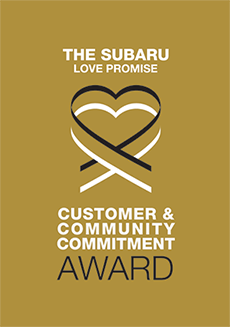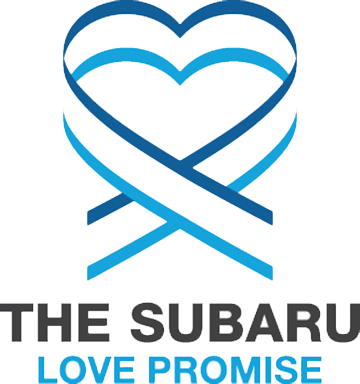 What is the Subaru Love Promise?
Subaru and our retailers believe in making the world a better place and the Subaru Love Promise is our vision of respecting all people. This is our commitment to show love and respect to our customers and to work to make a positive impact in the world.
How is Subaru of Las Vegas dedicated locally to the Love Promise?
Our Love Promise can be seen in various partnerships with local charities and non-profits. We're grateful for the opportunity, not only to be a part of our community, but to serve it as well.
The Animal Foundation, Wagging Tails Rescue, NSPCA
The Salvation Army Southern Nevada
Red Rock Search & Rescue, Safe Nest, Catholic Charities of Southern Nevada
Leukemia & Lymphoma Society, American Red Cross, The American Cancer Society
Love Promise Stories from Subaru of Las Vegas
Subaru and Subaru of Las Vegas believe in making a positive impact on the communities in which we live and work. We uphold that belief through our Love Promise Community Commitment. Every month, we select inspiring stories from customers and partners from around our area who strive to support our collective commitment and feature them here
The Second Happiest Place on Earth - Emily D
A time for hope, a time away from doctors, a time for fun, and a time to be a normal kid is what every camper gets to experience when they step foot on Torino Ranch for another year of Camp Cartwheel. For the last 27 years, Camp Cartwheel has continued to be one of Nevada Childhood Cancer Foundation's most impactful events that inspire kids never to lose hope in their battle with cancer or other life-threatening diseases. Camp Cartwheel holds a special place in the heart of Findlay Subaru of Las Vegas. For the last seven years, Subaru of Las Vegas has been able to experience the love and wonders of Camp Cartwheel. Our employees witness the joy and magic that returns to each camper as they step off the bus back into a safe place that feels like home. As soon as camp begins, there is no telling which children are facing a life-threatening disease or which children are perfectly healthy. All you see at camp are kids being kids, creating memories, and living in each moment of life. After two years of having to hold Camp Cartwheel virtually due to the effects of COVID-19, this year's camp was bigger than ever with new experiences for children to enjoy, like scuba diving lessons, paint wars, new camp dances, and so much more. We are beyond grateful to have the opportunity to volunteer at Camp Cartwheel and help make camp a memory that will last forever and help support the mission and cause of the Nevada Childhood Cancer Foundation.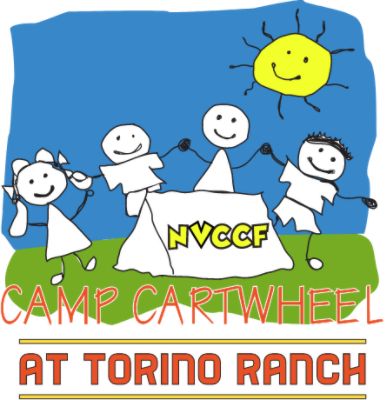 ---
Spreading Love and Hope with Leukemia & Lymphoma Society - Laurie P
On July 6th, Subaru Las Vegas and The Leukemia and Lymphoma Society partnered for the fourth year to bring hope and comfort to children battling cancer at Summerlin Hospital Medical Center. Burton Hughes, General Manager, and Jennifer Vitale, Assistant General Manager along with LLS staff member, Laurie Perry delivered 80 blankets and 25 arts and craft kits. These generous gifts were accompanied by handwritten cards from Subaru customers and staff providing loving messages of blessings, well wishes, and inspiration. One message stood out to me. The card read, "Always remember… you are braver than you believe, stronger than you think, smarter than you seem, & loved more than you know. Never Give UP!" Those are powerful words! During the delivery, Burton Hughes entered each hospital room with a calming presence. He spoke words of comfort and kindness to each child and parent as he presented the gifts. One precious child, Breanna, listened intently while Burton offered her encouragement, and she gave a huge smile to the camera as her picture was taken with her mom, Burton, and Jennifer. Her mother told us that a lot of people are praying for Breanna with prayer chains being sent all over the world. We met some of the other children including a little energetic boy named Ryan who was very happy to meet us and thrilled with his gifts. Liam, an avid Jujitsu competitor would be heading home the next day to Hawaii where he will compete in the Fall. Not all were in good spirits. A teenager with very sad eyes, sitting on the edge of his bed with an IV, listened and nodded as he received his blanket. Alexander, a toddler enjoying watermelon, barely looked up while his dad told us that he doesn't trust people for fear that they're here to stick him with more needles. We can only hope that the blankets provide just a bit of comfort while these children put up the fight of their lives. Great thanks to Burton Hughes, Jennifer Vitale, the Subaru of Las Vegas team, and the wonderful staff at Summerlin Medical Center for supporting LLS's mission to cure blood cancers and improve the quality of life of patients and their families.
---
Subaru of Las Vegas 4th of July Microchip Clinic - Christy S
Dear Subaru of Las Vegas, One of the most dangerous times of the year for pets is Independence Day, as triple the amount of strays will end up at the shelter in one day. I'll never forget brainstorming with Jennifer and Emily at our Cat Cafe about partnering with Subaru of Las Vegas to create a microchipping event prior to July 4th in order to protect pets if they become lost. We met for almost two hours discussing the ways you could help support our organization's mission. On top of planning the event, you gave us your expert advice on advertising and offered to help us with public service announcements. The microchipping event at the dealership was a dream! You were so accommodating with the space and generous with your sponsorship. We were able to protect 77 pets with a new microchip at no cost to the families and you provided free carabiners to make sure their gates were secure. This was our third community initiative together and our partnership just keeps getting better and better at creating a positive impact. Our mission is, to nurture a compassionate society where pets are supported in their homes and on their journey to find a home. Hearts Alive Village rescues animals, YES! But more than that, we provide resources that support struggling pet parents to keep animals out of the shelter system in the first place. It's a progressive concept in animal welfare, and Subaru of Las Vegas, gets it! We appreciate the example you set for the Las Vegas business community. We need everyone to understand the importance of prevention, like you do. Las Vegas is still suffering the economic fallout of the pandemic. We now see the ever-rising housing costs devastating an already vulnerable community. When life is difficult for people, it becomes even more difficult for animals. This means the animal shelters fill up because people are struggling to access basic services like vaccines and microchips, and even to keep their furry family members fed and healthy at home. When a non profit organization takes on a social problem, we know it will always be a rocky road, uphill both ways.. That's why our partnership with your team at Subaru of Las Vegas makes us feel like we have four-wheel drive! Our mission matters to you and it's not just because you say it does. Your actions, your participation and sponsorships have made a huge difference in the lives of people and their pets in our community! With respect and immense gratitude for the mutual love of our community's animals, Christy Stevens Executive Director Hearts Alive Village
---
Honoring Local Service Members Through The Subaru of Las Vegas Fill The Boot Fundraiser - Sara B
Throughout the month of May, Subaru of Las Vegas honored local service members and family members through their Fill the Boot Fundraiser. May was designated as National Military Appreciation Month in 1999 to ensure the nation was given the chance to publicly show their appreciation for troops. Subaru of Las Vegas employees personally went above and beyond in 2022 and raised $3,000 for USO Nevada. This donation will allow us to provide a home away from home at our Terminal 1, Terminal 3, and Nellis and Creech AFB Centers. It will also allow us to host family care programs, deployed family dinners, homecomings and deployments, and numerous squadron functions throughout the year. Since 2010, USO Nevada has provided a sense of community for the more than 20,000 active-duty, guard, and reservist personnel currently stationed in Nevada. Despite COVID restrictions, we were able to adapt and increase our reach by 31% over 2020. Without the continued support of local companies like Subaru of Las Vegas, we would not be able to fulfill our mission of strengthening America's service members by keeping them connected to family, home and country.
---
Subaru of Las Vegas is Helping Others Pawsitively Every Day With Their Subaru Therapy Dog Team - Jim H
It has always been the mission of Michael's Angel Paws to join hands with its community, and in 2021, Subaru of Las Vegas and Michael's Angel Paws did just that! Together we built a loving collaboration that would eventually help thousands of people throughout the Las Vegas Valley! With generous support from Subaru of Las Vegas, the remarkable partnership first provided resources for four Assistance Dogs to be certified through Michael's Angel Paws at no cost to the owner. These loving dogs put their heart into training so they could help their owners, their families, and friends have a better way of life. While an Assistance Dog trains to enable one individual with a specific task, i.e. mobility and scent detection, to name only a few, Subaru of Las Vegas wanted to do more! Subaru of Las Vegas decided they wanted to train their own dogs to create a Subaru Therapy Dog Team to be able to go out into the community and deepen their love. Michael's Angel Paws was fortunate enough to join in on the ride and help Subaru's Teams get certified through their organization. The Teams decided that they would take the pledge to complete Michael's Angel Paws 4-step process to become a certified therapy team. The adventure started in April 2021, when an announcement went out to Subaru's associates who had dogs that would like to participate in this sponsored training program to create a Therapy Dog team that would help bless the community with love and joy. The next step was for Michael's Angel Paws to meet with all the dogs and their parents to determine who was ready to dedicate their time to go through significant training and give back to the community. We chose the team from there, and just like that, Frankie, Denver, Jambo, and their handlers made history by becoming the first Subaru Therapy Dog Team! The dogs and their owners were excited to start on the adventure of learning how to be the best Therapy Team to share the love and create a deeper impact in the Las Vegas community. Initially, each dog needed to pass their Foundation for Obedience Class, an introductory class on how to communicate with your pup and have fun! Our second 5-week lesson was the Advanced Obedience course! This class was even more fun than the last because Michael's Angel Paws "Canine Coach" had to get our puppy parents even more engaged with their four-legged "kids" and thinking like a bona fide trainer! Each team member passed with flying colors, and we were all looking forward to the next series of classes. American Kennel Club (AKC) has a class called "Canine Good Citizenship," which teaches our pups to be polite, friendly, and approachable when they are in and out of our house. In addition, Michael's Angel Paws has expert evaluators to ensure the Teams meet the strict requirements established by the AKC. The last and most important hurdle was completing the Michael's Angel Paws Therapy Dog lesson. The Teams, along with their "Coach," went on field trips to different locations, like home improvement stores, shopping areas, parks, etc., to help each team go through varying levels of exposure to all of the things they may encounter when they go on therapy outings. Our Therapy Dog Teams can visit hospitals, schools, veteran homes, and conventions, so we must ensure each dog is prepared for any person they may meet on their adventures. After months of hard work and dedication from the dogs and their handlers, the Findlay Subaru of Las Vegas Therapy Dog Team graduated! It was an absolute pleasure to be the organization that was able to work with Findlay Subaru of Las Vegas and create a Therapy Dog Team. If you were to ask us ten years ago if we would be building a Subaru Therapy Dog Team, my answer would be no. Today, Michael's Angel Paws celebrates a monumental milestone for our nonprofit that we never thought possible. Thank you to the Subaru of Las Vegas family for showering our organization with love and support. The way you believe in our mission is helping spread the word about Michael's Angel Paws and allowing us to continue to reach our goal of opening our own facility to help train Assistant Dogs. Not only are you making our dreams come true, but you are also helping others pawsitively every day by having your Therapy Dog Team. We are proud to have you as partners and a part of the Michael's Angel Paws family. We hope you and your dogs enjoy going out into the community and spreading love through wagging tails and wet nose kisses.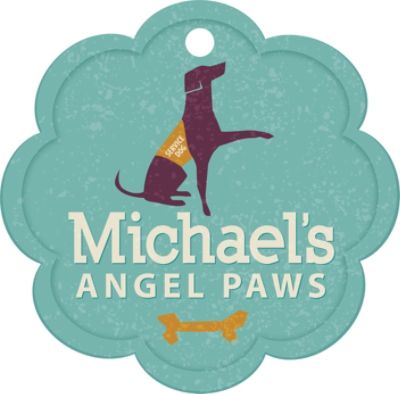 ---
2022 Road To College Scholarship - Allison H
First, I would like to thank everyone at Findlay Subaru of Las Vegas and De Castroverde Law Group that made this scholarship possible. It is really inspiring to see these two prominent groups in Las Vegas that give back to the community in a truly life-changing way. Hence the name, this scholarship is truly putting me on the road to college. I remember just a few days before I received the call that I won the $10,000.00 scholarship, my family and I had just submitted a hefty student loan application. We were trying to stay positive but the financial reality was setting in and it was overwhelming. As a first-generation college student, I am so incredibly grateful that I have to opportunity to accomplish what my parents were not able to. Neither of them were able to obtain a college degree to a complete lack of financial support. I have seen firsthand how it has impacted us. However, I have been determined to use what my parents taught me and rise above the financial burden that has dictated my family's ability to go to college. What is even more special is making my dad proud by receiving this scholarship which he told me about initially. I am proud to accept this scholarship to help fund my studies at Simon Fraser University in Vancouver, Canada this fall as a joint major in Business Administration and Interactive Arts & Technology. I am most excited for the diverse, international experience I will receive as a student at SFU and the adventure that comes with studying abroad. I hope to take what I learn and turn my ideas and passions into working realities through gender equality nonprofits and innovative technology-based products. Thank you to Findlay Subaru of Las Vegas and De Castroverde Law again. Your passion and stories are so inspiring and I can't wait to pay this forward one day to another deserving young student. I'll make sure to send you guys updates about my Canadian adventures! Thank you a million, Allison Hill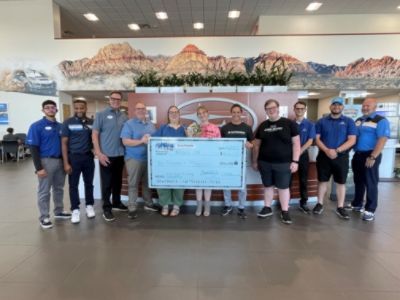 ---
Ohana Means Family - Kaimu C
Ohana. When I think about this word, the meaning is often times hard to express. Having grown up in Hawai'i, the most accurate way for me to describe this is a feeling that can only be felt after experiencing it first-hand through the Hawaiian culture. Lilo and Stitch defines it as, "Ohana means family. Family means nobody gets left behind or forgotten." Nobody gets left behind…that's the exact feeling I get when visiting home. Regardless of the time that has passed since my last visit, the moment I step off the plane in Hawai'i, the instant feeling as if time has not passed at all overwhelms me. Ohana encompasses so much more than just the love for your immediate family. It is a love you forever carry in your heart for the people who have made an impact at some point in your life. When I think about what ohana really means and the feeling it leaves you with, I think of Subaru of Las Vegas. They have become my true ohana. I started with Subaru of Las Vegas in August of 2018 and immediately felt a part of a big family. They embraced me and welcomed me warmly. In November of 2021, I left work early to rush to the hospital as I began to lose vision. It was then that I was diagnosed with Leukemia and my life was forever changed. The process has been indescribable; there have been difficulties along the way. Subaru of Las Vegas has been by my side through it all. Not only have they assured me my job when I'm ready to return, but Coty Dehnert the Fixed Operations Director has also kept in touch with me and visited me in the hospital. The Subaru of Las Vegas family also came together and started a GoFundMe. They donated over $13,500 to my fight and relieved some of the financial pressure for my medical bills and living expenses. I am hopeful of my return to Subaru of Las Vegas soon, but even if that never happens, I know in my heart that I will always have an ohana in them.
---
Honoring Nevada's Heroes - Amanda K
Dear Subaru of Las Vegas, "You have never really lived until you have done something for someone who can never repay you" On behalf of The Southern Nevada State Veterans Home, we would like to personally thank the leadership at Subaru of Las Vegas for sponsoring and creating this amazing BBQ and Music event in honor of our residents at the Veterans Home. The day would not have been a success without the dedication and hard work of the amazing group of volunteers from Subaru of Las Vegas. Our residents and staff appreciate the burgers, hot dogs, sides, and patience the team showed while grilling and making plates for nearly 200 people. We love and appreciate you spending your valuable time and talents helping to create an amazing day for the residents. Every volunteer showed genuine kindness, caring, and compassion that came through in their actions. The band, Thillbilly Deluxe, was perfect and made our residents and staff feel like they were at their own personal concert at the comfort of our own home. This one day has meant a lot to our residents and has created a positive and lasting morale boost that is greatly appreciated by everyone at the Southern Nevada State Veterans Home. The continued partnership between the Southern Nevada State Veterans Home and Subaru of Las Vegas shows how much our community loves, respects, and remembers our Nevada Heroes. The staff and residents are touched by the thoughtfulness of your community engagement efforts, and we look forward to all the new and exciting ways we can continue to support each other. Respectfully, Eli Quinones, Administrator Amanda Kehrer, Volunteer Coordinator Fanny Butler, Activities Director
---
2022 Golfing For Veterans Golf Tournament - Glenn R
On behalf of the Summerlin Rotary Foundation, thank you so much for your faith, support and partnership as we successfully conclude our first annual Golfing for Veterans. Subaru of Las Vegas has been by our foundation's side from virtually Day 1. You were the very first corporate sponsor, trusting what was merely an idea back then. You provided us with the confidence and impetus to be as ambitious as we could, creating more than a golf tournament – a community of businesses committed to a common mission to serve our neediest veterans. When Christine Lindholm introduced me to Jennifer and Emily, who in turn guided me into Burton's office, I never could have imagined I would walk out with Subaru of Las Vegas as our presenting sponsor. From that moment on, I was led by a voice telling me if Subaru believed in this, I had better not fail. I hope our entire foundation and club met your expectations. You were partners in planning, even hosting our early committee meetings. You shared ideas and recommended other companies such as Custom Jacks. Maybe, most importantly, you lent your precious brand and community standing to Golfing for Veterans. That in turn gave scores of other companies the confidence to commit their dollars and time. And as we finally arrived at May 20th, there you were – Jennifer and Emily – on the 7th hole watching one of our golfers miss a hole in one by mere inches, with your Crosstrek nearly his. Our foundation team already has begun to assess what we did well and where we need to improve if we are to begin planning the second annual Golfing for Veterans. We did succeed financially and not only delivered four $5,000 checks to our beneficiaries: 22 Warriors Foundation, Stand Up and Play Foundation, PGA Hope, and Semper FI & America's Fund; and also seeded a first-ever foundation Veterans Heroes Fund to begin building an endowment dedicated to our neediest veterans. Our earnest hope is that we can nurture and grow our partnership, being responsive to your community initiatives as you are to ours. My sincerest and personal gratitude. Glenn
---
Heartbeat of the City - Valerie W
Our community is truly built on love; love for our people and love for our beautiful city. The people are the heartbeat that keeps Las Vegas alive and so special, but Las Vegas is also a vast melting pot. People come from all over the world to call Las Vegas home, and I don't blame them. This city has overcome and persevered through some of the worst; it has also seen beautiful days full of unity and love. It is filled with not only riches, along with hopes and dreams that often times turn into reality, but also with poverty that often times is overlooked. Since 2007, Nevada has had one of the highest growing rates of sheltered chronically homeless individuals in the country, and our homeless population ranked 9th highest in 2021. The Las Vegas Rescue Mission relies heavily on our community to provide donations, host collection drives, and provide support in multiple ways so that we can continue to deliver critical programs and services for those in need. Findlay Subaru of Las Vegas – you are the epitome of the love behind this city and what makes it so special. Your volunteer efforts on Sunday, May 15th to The Las Vegas Rescue mission put smiles on our clients' faces that we hadn't seen in a long time. The warmth of your generosity and the heart behind your willingness to not only serve dinner to our clients', but also spend time with them and hear their stories brought tears to our eyes. If that wasn't enough, you went even further and provided 300 hygiene kits (made up of socks, body soap, shampoo/conditioner, toothpaste/toothbrush, chap stick, wash cloth, and granola bars); all things that our clients are in desperate need of and a challenge for us to provide right now given the impact of the pandemic leaving us with limited resources. You also brought in another community partner, Circa Salon, to provide free haircuts. During these last few years, our shelter has operated under strict restrictions mandated by the state, which prevented us from being able to serve the majority of our homeless population. Watching our clients receive a haircut after many years of not having one was a moment our staff will cherish forever. It's truly the small things in life that we take for granted, like a haircut, which means the world to our homeless community. Your generosity left a lasting impact on our entire staff and our clients. 'Thank you' just does not seem like it's enough to express our appreciation towards the time you spent at the Las Vegas Rescue Mission on a Sunday. It is because of community partners like yourselves who have the heart to serve and to make an impactful difference that we are able to keep our doors open to those in need. We are ever so grateful; thank you.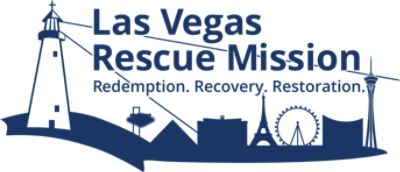 ---